Zello and Wave are two popular PTT (push to talk) instant group voice communications apps. These apps are used by neighborhood watch groups, citizen rescue groups (e.g. Cajun Navy), and more. Note that these apps REQUIRE internet connectivity via cellular or WiFi–otherwise they do NOT work!
To make group voice PTT apps much more convenient, optionally one can use a speaker-mic with PTT button to hear much louder audio than with the cell phone, while not needing to take out the cell phone to talk. This is very important and convenient for a wide range of operations. The key advantage of any speaker mic is loud audio output. The speaker is several times larger than the internal smartphone speaker, meaning the fidelity and sound level is much stronger.
Again, the speaker mic is OPTIONAL and just makes the audio louder, clearer, and is more convenient to operate. Some speaker-mics connect to phone via Bluetooth, which over cellular talk to many phones.
Bluetooth speaker mics for PTT over LTE can be found in the $90 - $150 price range. Pryme Radio Products makes several models of Bluetooth PTT phone speaker mics. Most Bluetooth Speaker-Mics are "open", meaning they can work with any app suited to accept them. However, some Bluetooth Speaker-Mic are "proprietary", meaning they work only with their specific app. The problem with proprietary Speaker-Mics is that if the manufacturer goes away, you lose service.
The Pryme BTH-500 brings numerous benefits to make phone-based group PTT very desirable. It can be found for about $130. The rotary volume control is ideal as it allows changing volume with gloves or inside a pocket without looking at it.
| Item | Specification |
| --- | --- |
| Bluetooth | v4.0+ (BLE) Class 2, HFP, HSP, SPP |
| Speaker Output | 1 Watt |
| RX Sensitivity | -82 dBm |
| Range (phone to mic) | 10 meters |
| Battery | 5 Vdc, 1020 mAh |
| Battery life (Standby/Active) | 30 days / 80 hours |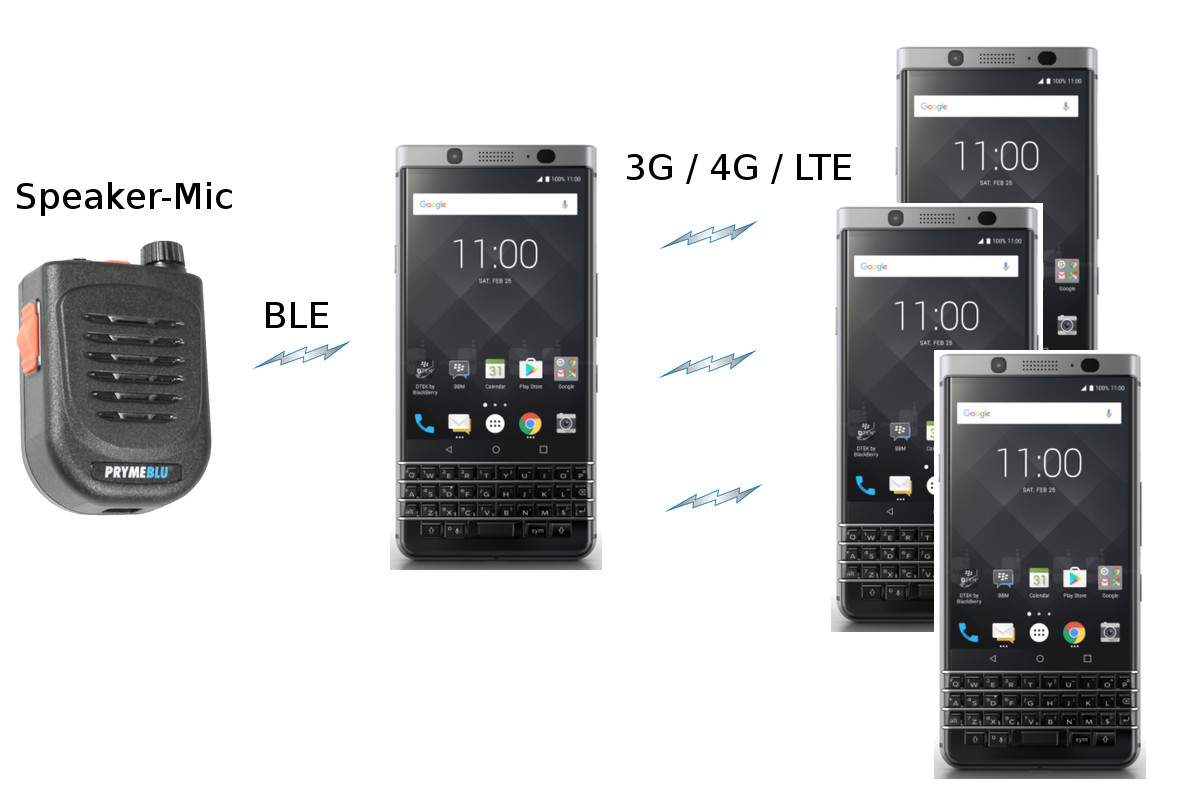 ---
Proprietary solutions include Onyx from Orion Labs. Onyx is a hockey-puck like device where you can connect one-to-one or one-to-many, like a wireless speaker-microphone. The Onyx costs about $80 each. Onyx works with certain iOS and Android phones only. Onyx does NOT work with tablets.
For public safety and critical infrastructure users consider MCPTT (Mission Critical Push to Talk) solutions for PCPS (Push to Communicate for Public Safety). The Open Mobile Alliance help define specifications for release as ETSI standards that all carriers and OEMs (infrastructure and devices) can comply with. MCPTT/PCPS involves working at a lower network layer through the wireless carrier to provide QoS and prioritization with very high reliability. This also includes "talkaround" that is, LTE devices that can communicate directly even if the wireless network is not available, like old-fashioned walkie-talkies. These capabilities are NOT present in Wave, Zello and similar apps freely available.
---
Related: Install Zello on Linux