The Vornado Flippi fan series gets a number of bad reviews associated with short lifetime, some claiming days or weeks, prompting a return of the fan to the retailer. In my case, I tread just enough beyond the 3 year warranty, and was disappointed enough with the design, not to bother warranty claim.
My Vornado Flippi V6 fan failed because a 120 Vac wire going from the fan base to the fan blade motor failed, possibly due to fatigue due to the oscillating motion of the fan head. This blue wire luckily was the neutral wire, and was of type AWM 1430 with VW-1 rating, 22 AWG. The wire manufacturer/model is Lee Yuen.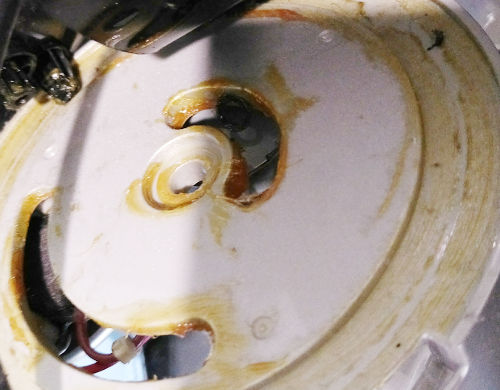 The Flippi oscillating fan had a very excessive amount of grease inside, one reason I chose not to repair it. Just looks like a sloppy design and build–not what I would expect from Vornado.
iFixit Vornado Flippi teardown